Katrina' 10 years gone
By: Patrap, 2:55 AM GMT on August 21, 2015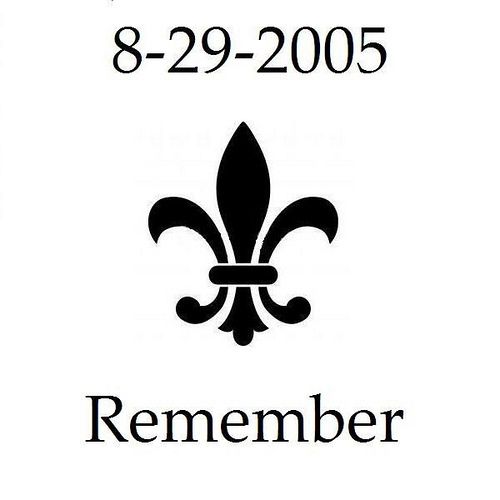 "Ten Years Gone"

Then as it was, then again it will be
An' though the course may change sometimes
Rivers always reach the sea
Blind stars of fortune, each have several rays
On the wings of maybe, downey birds of prey
Kind of makes me feel sometimes, didn't have to grow
But as the eagle leaves the nest, it's got so far to go

Changes fill my time, baby, that's alright with me
In the midst I think of you, and how it used to be

Did you ever really need somebody, And really need 'em bad
Did you ever really want somebody, The best love you ever had
Do you ever remember me, baby, did it feel so good
'Cause it was just the first time, And you knew you would

Through the eyes an' I sparkle, Senses growing keen
Taste your love along the way, See your feathers preen
Kind of makes makes me feel sometimes, Didn't have to grow
We are eagles of one nest, The nest is in our soul

Vixen in my dreams, with great surprise to me
Never thought I'd see your face the way it used to be
Oh darlin', oh darlin'

I'm never gonna leave you. I never gonna leave
Holdin' on, ten years gone
Ten years gone, holdin' on, ten years gone


We wouldn't wish Katrina on anyone
By: Patrap, 6:36 PM GMT on August 15, 2015


New Orleans to clueless outsiders: We wouldn't wish Katrina on anyone


By The Editorial Board, NOLA.com | The Times-Picayune
Follow on Twitter
on August 14, 2015 at 3:55 PM


New Orleanians have had to refute asinine critiques of our city almost since the moment Hurricane Katrina washed ashore Aug. 29, 2005, and the Corps of Engineers' shoddily designed levees fell apart.

There have been doubters. There have been Grinches. There have been people who didn't have a clue.

Then-House Speaker Dennis Hastert was one of the first. Only two days after Katrina, he told an Illinois newspaper: "It looks like a lot of that place could be bulldozed." He also implied the city shouldn't be rebuilt, although he quickly backtracked.

A week later the Houston Chronicle reported that then-House Majority Leader Tom Delay asked three youngsters who had evacuated from New Orleans to the Astrodome: "Now tell me the truth boys, is this kind of fun?"

Fun? What on earth was he thinking?

The same question applies today to Chicago Tribune opinion writer Kristen McQueary. She outdid Mr. Delay this week with her column titled, "In Chicago, wishing for a Hurricane Katrina."

A horrific disaster that killed 1,833 people and destroyed tens of thousands of homes is her idea of urban renewal?

She does start by saying that "envy isn't a rational response to the upcoming 10-year anniversary of Hurricane Katrina." But she moves on in the next sentence to the idiotic notion that disaster is a good thing.

"I find myself wishing for a storm in Chicago — an unpredictable, haughty, devastating swirl of fury. A dramatic levee break. Geysers bursting through manhole covers. A sleeping city, forced onto the rooftops.

"That's what it took to hit the reset button in New Orleans. Chaos. Tragedy. Heartbreak."

She glibly throws around those words: Chaos. Tragedy. Heartbreak.

To us, they are a punch in the gut. We have lived them. Many of us lost family members and neighbors who were forced onto their rooftops or into attics and didn't survive.

The dramatic levee breaks — there wasn't merely one — took them from us. The water almost took our entire city, inundating an area seven times the size of Manhattan.

Yes, we have cleaned away the muck and rebuilt homes and neighborhoods in the past decade. Yes, our public schools are being reinvented and re-energized. Yes, citizens demanded an end to antiquated political structures that were holding us down. Yes, we gained an unprecedented appreciation for the heart and soul of this place and for each other.

Tourists are back in huge numbers. Our joie de vivre is intact.

But no one who went through it would ever wish for another Katrina — not for ourselves or for anyone else. No city should have to go through such heart-rending losses, and certainly not in the name of change.

The idea that Hurricane Katrina was a reset button for New Orleans is absurd and simplistic. There have been important reforms in the past decade, and that is reason to be proud as a New Orleanian.

But nothing makes up for the human cost of this or any disaster. Imagining that it could is a cold-hearted exercise.

Ms. McQueary is one of hundreds of observers — writers, TV pundits, politicians — who will be judging our recovery on Katrina's 10th anniversary. It is not an easy task.

The reality is complex. Some neighborhoods are thriving. Others are eerily empty. We have made some houses stronger, but others are falling apart.

Making general assumptions about the city's recovery is folly. Likening Katrina and the collapse of the levees to any other experience is virtually impossible.

And forgetting that a tragedy occurred here is unforgivable.





Create your own visitor map


The Bombing of Hiroshima
By: Patrap, 8:02 PM GMT on August 06, 2015
A personal note as to the Atomic Bomb drop on Hiroshima 70 years ago today. At the time the bomb was dropped, my Father a 19 yr ol US Marine Veteran of Okinawa earlier that year, was on Guadalcanal. They, the 6th Marine Division was preparing for the Mainland Invasion of the Japanese Island.
The 2 Bombs ended the War and thus He survived to have me and my two siblings.

So consider that the million plus casualties that would have been incurred on the Allies and the Japanese people, was avoided. Hindsight is never 20/20.


But History deserves the side that made me what I am today.

His Son.

Semper Fi'





Create your own visitor map


The views of the author are his/her own and do not necessarily represent the position of The Weather Company or its parent, IBM.
Patrap's WunderBlog
Previous Entries for 2020
Recommended Links